Congratulations, Mr. Higashi, for earning a Congressional Gold Medal!
According to the U.S. Mint, "This medal is a bronze duplicate of the Congressional Gold Medal awarded to the 100thInfantry Battalion (INF BN), 442nd Regimental Combat Team (RCT) and Military Intelligence Service (MIS) at a ceremony in the U.S. Capitol Building on November 2, 2011, in recognition of their dedicated service during World War II. Their commitment and sacrifice – in the face of a two-fronted battle against discrimination at home and fascism abroad – demonstrate a highly uncommon and commendable sense of patriotism and honor."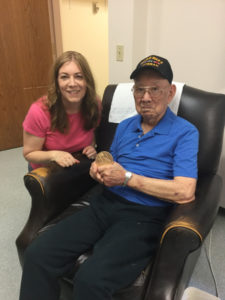 Thanks to Jeff Morita, volunteer with the Sons and Daughters of the 442nd, located in Honolulu, HI, for sending this replica to Mr. Higashi. Somehow, Mr. Higashi didn't know about the presentation ceremony in 2011, and wasn't able to travel at that time anyway due to health.  He was very pleased by this generous and special gift today.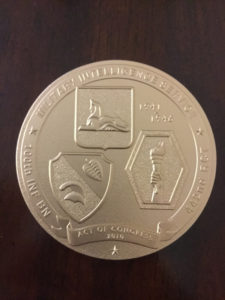 Also, Mr. Morita assisted the Higashis in applying for a re-issue of Mr. Higashi's medals and citations from World War II. We were all surprised to find out that the Army may send at least 19 medals to him! Stay tuned for that event.